POST GRADUATE DIPLOMA IN
OIL & GAS

Duration : 3 Months
Certified Trainer
Dedicated Career Services
Unlimited Interviews
QUALITY CONTROL
ENGINEERING(QA/QC)

Duration : 1 Month
Certified Trainer
Dedicated Career Services
Unlimited Interviews
NDT
ASNT LEVEL-II

Duration : 1 Month
Certified Trainer
Dedicated Career Services
Unlimited Interviews
PIPING ENGINEERING TRAINING
Looking for Best Piping Engineering Training in Chennai, EGAI is No 1 Piping Engineering training institutes in Chennai offering professional training by experts. Call +91 9176604201 or +91 8296036202
Piping Engineering Training course, we believe in practice what you preach and therefore each candidate is encouraged to practically conduct each topic that is discussed for better understanding of real-world scenario Piping. This practice of comprehensive training allows candidate to gain all the concepts and skills effectively and to later efficiently apply on their field of work.
EGAI is one of the Best Piping training institute in Chennai with 100% placement assistance. EGAI has well structure modules and training program designed for both students and working professionals separately. At EGAI, Piping Engineering training is conducted during all 5 days, and special weekend classes. Can also be arranged and scheduled. We also provide fast track training programs for students and professionals looking to upgrade themselves instantly.
Why Piping Engineering Training in Chennai at EGAI?
Learning evergreen technology from EGAI makes your career to be rich one. Our Piping courses include all recent technologies like NDT, PIPING and etc. EGAI is home to practical, real-time and placement assistance focused training in Chennai. Our Piping Engineering training is carried by experienced trainers based on the industry standards and training students for real world challenges.
What is Piping Engineering?
Piping Engineering involves precise calculation and software, Piping is a system of pipes used to convey fluid in the form of liquids and gases from one location to another. Piping Engineering includes production of various drawings and documents.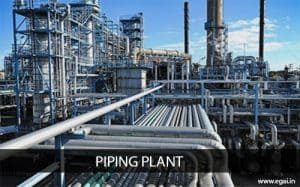 It is very important for any industrial plant. Some of the activities for Piping Design and Detailed Engineering 3D modeling, plot plan, stress analysis, support engineering, piping modeling, support modeling and many more. Piping Engineering is big part of the power plant. Piping engineering involves Selection of Pipe material. Pipe sizing Calculation of Pipe OD's and ID's. Pipe Thickness calculation Calculating the thickness of pipe for the given pressure condition. Pipe pressure drop calculation The pressure drop caused due to flow of fluid from one point to another. Piping layout engineering, Piping stress analysis, Piping Support design.
Responsibilities of Piping Engineer
Piping design engineers involvement starts right from the plant feasibility study and then to detail engineering study and remains till commissioning of chemical plant.
Study of process requirements and site conditions to prepare equipment layout and complete pot plan.
Co-ordinate with civil and structural engineers to finalize pipe rack, platforms, foundations and other structural requirements.
Provide support to all purchase activities and evaluate all vendor documents for technical requirements.
Analyze all mechanical data sheets (MDS) and develop required mechanical drawings like nozzle orientations, support clip drawings etc.
Preparation piping layout and isometrics adhering to process requirements, erection, operation-ability, maintenance and safety.
Preparation of piping material specification (PMS) and valve material specification (VMS).
Preparation and regular updation of material take off (MTO) as per changes in piping layout and process piping and instrumentation diagram (P&ID).
Review the vendor supplied documents like pump drawings, skid plan, equipment data sheet etc to ensure piping requirements are fulfilled.
Stress analysis of stress critical lines and support marking for all the isometrics. Ensuring sufficient structural members/pedestrals are in place to place all the piping supports.
Co-ordinate with structural and equipment departments for handling excess loads and structural members and equipment nozzles as an outcome of stress analysis.
Verify the requirements of high point vents and low point drains more than specified in process P&ID to facilitate the hydrotesting.
Assisting site construction team for any field raised issue by providing immediate solution.
Scaffolding
Scaffolding, also called scaffold or staging, is a temporary structure used to support a work crew and materials to aid in the construction, maintenance and repair of buildings, bridges and all other man made structures. Scaffolds are widely used on site to get access to heights and areas that would be otherwise hard to get to.Unsafe scaffolding has the potential to result in death or serious injury. Scaffolding is also used in adapted forms for formwork and shoring, grandstand seating, concert stages, access/viewing towers, exhibition stands, ski ramps, half pipes and art projects.
There are five main types of scaffolding used worldwide today. These are Tube and Coupler (fitting) components, prefabricated modular system scaffold components, H-frame / facade modular system scaffolds, timber scaffolds and bamboo scaffolds (particularly in China).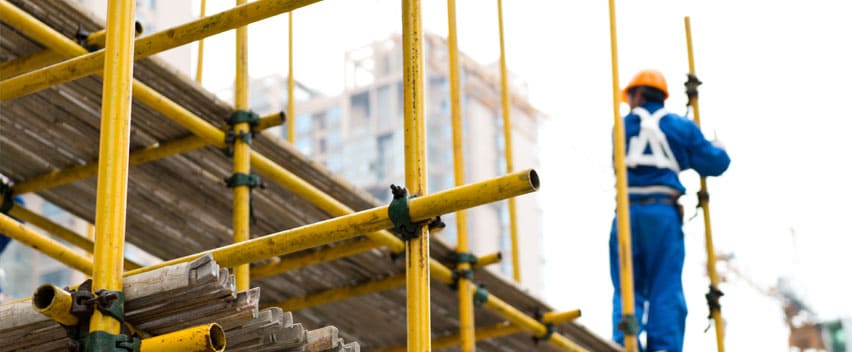 Each type is made from several components which often include:
A base jack or plate which is a load-bearing base for the scaffold.
The standard, the upright component with connector joins.
The ledger, a horizontal brace.
The transom, a horizontal cross-section load-bearing component which holds the batten, board, or decking unit.
Brace diagonal and/or cross section bracing component.
Batten or board decking component used to make the working platform.
Coupler, a fitting used to join components together.
Scaffold tie, used to tie in the scaffold to structures.
Brackets, used to extend the width of working platforms.
P & ID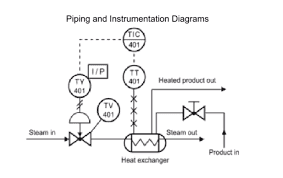 A piping and instrumentation diagram (P&ID) is a drawing in the process industry. A P&ID shows all piping, including the "physical sequence of branches, reducers, valves, equipment, instrumentation and control interlocks." A P&ID is used to operate the process system, since it shows the piping of the process flow along with the installed equipment and instrumentation. P & IDs play a key role in maintaining and modifying the process they describe, because it is important to demonstrate the physical sequence of equipment and systems, including how these systems connect. In terms of processing facilities, a P&ID is a visual representation of key piping and instrument details, control and shutdown schemes, safety and regulatory requirements, and basic start-up and operational information.
PIPING MATERIAL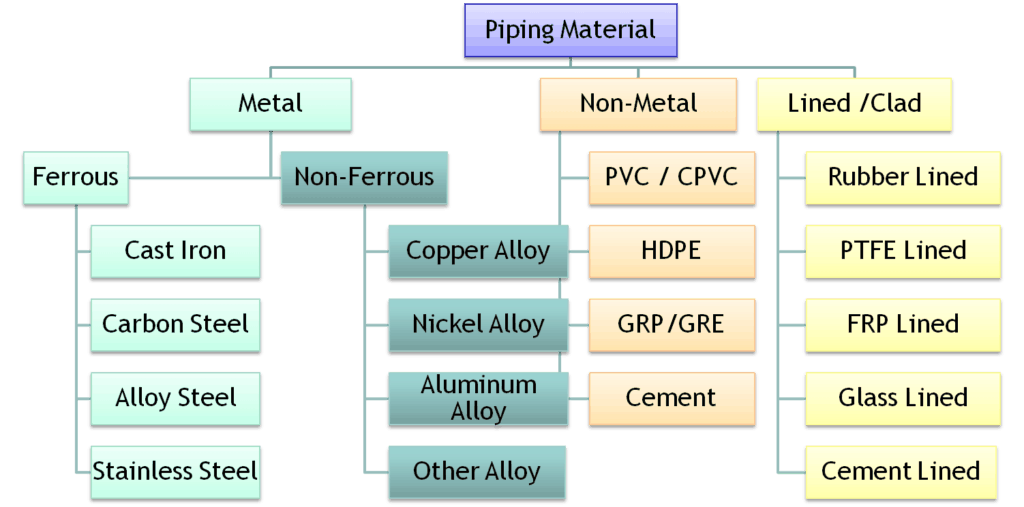 PIPING COMPONENTS
A fitting is used in pipe systems to connect the straight pipe or tubing sections, adapt to different sizes or shapes and for other purposes, such as regulating (or measuring) fluid flow. "Plumbing" is generally used to describe the conveyance of water, gas, or liquid waste in domestic or commercial environments; "piping" is often used to describe the high-performance (high-pressure, high-flow, high-temperature or hazardous-material) conveyance of fluids in specialized applications. "Tubing" is sometimes used for lighter-weight piping, especially that flexible enough to be supplied in coiled form.